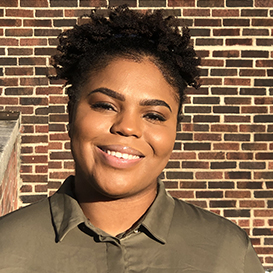 Telayne Keith found ScaleCo through an internship search in 2020, and eventually moved into a Marketing Associate and User Experience seat in 2021. She is accountable for many projects involving user experience, graphic design, marketing, and her personal favorite, process improvement. Telayne has a breadth of expertise in creating customer persona studies and usability studies which she performs regularly at ScaleCo and their platform companies. 
Lift As You Climb
Telayne's infectious empathy, vigor, and excellence in communication makes her the ideal team player. While she didn't expect to work in private equity, the following mantra shared by Brendan Anderson, Founder of ScaleCo, solidified her assumption that ScaleCo was a perfect fit for her career; "…I've heard Brendan say, 'We want to lift as we climb'…Ensuring that as we're moving upwards, no one gets left behind. I think that's important".  
Telayne's business experience began early on in her life as a top seller of Girl Scout Cookies. "Girl Scouts afforded me the opportunity to learn about business management and financial literacy at a young age. Our troop was recognized nationally for an innovative "drive-thru cookie booth". I travelled to Europe, sat on the board of executives, and advocated for change in my community all before starting college." An entrepreneur herself, Telayne's advice for young entrepreneurs is, "make sure you always keep the problem you're trying to solve center". She believes staying focused on your goals, and actively improving can help entrepreneurs be more successful in the long run. 
The Elle Woods of UX
Artistic creativity and an enthusiasm for fashion is where Telayne's journey began. Growing up, her natural talents and interests in fashion led her to Kent State University for an undergraduate degree in Fashion Merchandising. Telayne was drawn to exploring other specializations after working in the fashion industry for 3 years. Life took an interesting turn when she decided to launch her business, Sinclair Creative, a digital media brand in 2020. Her vision for the company prompted new expertise to her already expansive toolkit, and guided her back to Kent State for a Master of Science in User Experience Design, which she will receive in 2022.  With a "Lift As You Climb" mentality, Telayne began mentoring the next generation of entrepreneurs through the Apple Code 2 Career Program with the Boys and Girls Club of Southeastern Michigan in the fall of 2021. There she teaches students the fundamentals of design thinking and how to implement it to enact change in their communities. Community driven outreach is at the core of Telayne's values. 
Just A Kid From Akron
As an Akron, Ohio native Telayne grew up in a tight knit community just outside of Cleveland. Proud of her roots, she strongly believes Northeast Ohio is rife with opportunities; "I think some of the most resourceful people in the world have come out of Ohio, and out of Cleveland. One thing you always see is that we never give up. We keep going. The market in Cleveland is constantly evolving". Telayne credits her first job as a student assistant at her local library for teaching her interpersonal skills, effective technology support, and excellent customer service. She humbly reflected on these invaluable life lessons and fondly explains her outlook on the experience; "…No job is too small for you. It teaches patience, it teaches pride, and you really get to know people. You start to hear their stories, and it changes your perspective…". Her inclination for helping others transfers to her work with ScaleCo tenfold. 
"Any Time You Learn, You Gain" – Bob Ross
Telayne's passion for art and creativity is clearly visible in her personal life. She grew up cooking with both of her grandmothers, learning their recipes and closely watching how they moved around the kitchen. As a true creative, she employs her innate innovative skills in the kitchen by taking family recipes and making them her own. Similarly, she feels that painting is a great outlet for her physical artistic abilities. "I really enjoy The Joy of Painting with Bob Ross…he says "You can do anything here – the only prerequisite is that it makes you happy"'. Through painting and other hobbies, she's adopted this new philosophy on life. A true cheerleader with an insatiable hunger for challenge, Telayne is an incredible resource to the ScaleCo Team.