Youngstown-Warren Regional Chamber Family-Owned Business Recognition Dinner
On Friday, March 11th Youngstown-Warren Regional Chamber held the first Family-Owned Business Award. This event partnered with ScaleCo, Huntington, and HKB and was intended to honor 20 family-owned businesses at a recognition dinner. The Regional Chambers and its partners presented awards to five of the businesses being recognized.
ScaleCo presented the Success in Succession award which highlighted a well-executed and unique succession plan that occurred in recent years. This was awarded to Anthony Cafaro with the Cafaro Company. Carfaro's family began their business in 1949 and began with Anthony Cafaro's Father and has since become one of the area's most well-known family-owned businesses. The Cafaro Company business specializes in real estate specifically malls, including the Eastwood Mall.
"When you're local, family-owned, you give with your heart. That's the big, most significant aspect of locally-owned family businesses," said Cafaro in an interview with WKBN27
ScaleCo's values include investing in people and being committed to growing businesses. ScaleCo believes that the Cafaro family demonstrates these values. They are continuously looking for new opportunities to grow and have passed the business down through 3 generations of the family.
The other awards included: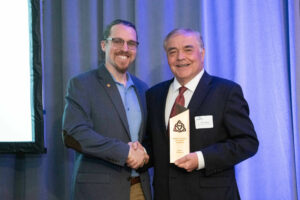 Huntington Social Impact Award: Focused on a family-owned business that went above and beyond to support the community while leveraging the business.
HBK Growth Story: For a family-owned business that took its enterprise to the next level.
Family-Owned Business Advocate of the Year: For a business or an individual involved in an initiative that supported the family-owned business
ecosystem locally.
Local to National Presence: For a business that has managed to develop a national or global presence while remaining family-owned.
As pictured is Wiley Runnestrand, former Vice-President at ScaleCo and currently operating a company in Warren OH Greenboard IT, presenting the award to Anthony Cafaro. ScaleCo was excited to be a part of this event and eager to see what the future holds. Congratulations to all winners.