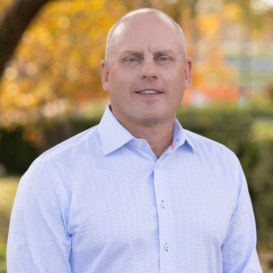 Name:                  Brendan Anderson
Title:                     Founder & Managing Partner
Background:
Brendan Anderson began his career in Chicago, where he completed formal credit training and worked as a senior lending officer with American National Bank and HSBC Bank. He gained further lending experience as an investor, board member, and member of the loan committee for a de-novo bank, American Heartland Bank.
Mr. Anderson began his entrepreneurial career in 1995 by forming The Mast Group, a firm that provided management services to manufacturing, distribution, financial services, and other companies. In 1996, he formed the Heartland Companies to purchase a distressed industrial park, and in 1998 purchased Stam, Inc., a manufacturing company. Mr. Anderson gained operating experience leading Stam daily from 1998 until 2005 as CFO, VP Sales, and Director.
In 2006, Mr. Anderson co-founded Evolution Capital Partners (ECP) to provide capital and management support to growing companies. ECP has invested over $100 million in 16 platform companies across three committed capital funds. In 2018, with the goal of building substantial support resources for the ECP portfolio companies, Mr. Anderson formed ScaleCo and hired a team that is active daily in the companies. For more than 30 years, Mr. Anderson has been a student of emerging businesses. He serves as Chairman of the ScaleCo IC and focuses on deal sourcing, strategy, vision building, fundraising, and investor relations.
Mr. Anderson is active in the Entrepreneurs Organization of Cleveland and Entrepreneurs Across Borders, and serves on the board of SOAR, an organization that helps young adults with ADD & ADHD.
Mr. Anderson is originally from Alliance, OH. He holds a BA in Economics from DePauw University and an MBA in Finance from Loyola University.
LinkedIn URL:     Brendan Anderson
Kolbe:                   5-2-9-3 (Strengths: Explain, Adapt, Innovate, Envision)
Team Profile:        Brendan Anderson